Jul 15, 2018
How far would you go?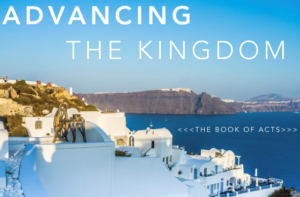 The Point: Many times our greatest witness to a lost world comes not from the words that come from our mouths. It comes, instead, from our response to adversity.
I. The Apostles met adversity (vs 17-26).
II. The Apostles responded with grace (vs. 27-32).
III. The Sanhedrin's response mirror modern society (vs. 33-42).
Watch
Notes
Download
Date
Title
Jul 15, 2018

How far would you go?

Jul 15, 2018

How far would you go?

The Point: Many times our greatest witness to a lost world comes not from the words that come from our mouths. It comes, instead, from our response to adversity.

I. The Apostles met adversity (vs 17-26).

II. The Apostles responded with grace (vs. 27-32).

III. The Sanhedrin's response mirror modern society (vs. 33-42).

Mar 18, 2018

Ordinary Hands / Extraordinary Savior

Mar 18, 2018

Ordinary Hands / Extraordinary Savior

The Point: Our culture has built up a mentality that you must have a celebrity's limelight to make a difference. Jesus doesn't want your fame. He simply wants your obedience.

I. Miracles Were Performed By The Hands of Men, Empowered Through The Heart of God. (vs. 12-13)

II. Miracles Focused Attention Away From The Law And Onto Grace. (vs. 14-16)

Mar 11, 2018

The Field, and the Phonies

Mar 11, 2018

The Field, and the Phonies

There were problems with our recording and we only have the last 15 minutes of the sermon.

Acts 5:1-11

The Point: Hypocrisy within the church causes us to play a role that we're further along in the maturation process than we actually are. It kills the church from within.

I. Among the people of God there will always be hypocrites.

II. God has placed us in a fallen world so we can reflect him in the world.

Mar 4, 2018

What is your nickname?

Mar 4, 2018

What is your nickname?

1. What would your nickname be?

2. Who can you be a Barnabas to this week?

Feb 18, 2018

When standing up drives you to your knees

Feb 18, 2018

When standing up drives you to your knees

We had technical issues with the recording. We have the second part of the sermon and we'll try to recover the first part and add it to our website as soon as possible.

Acts 4:23-31

The Point: In the face of immense persecution, the Church's response was to pray. The prayer they prayed wasn't for deliverance from discomfort. It was for boldness of witness.

I. The prayer was reflective of its recipient.

II. The prayer was rooted in the Gospel.

III. The prayer renounced comfort over mission.

Feb 4, 2018

Stand Up, Stand Up for Jesus, Part 1

Feb 4, 2018

Stand Up, Stand Up for Jesus, Part 1

Acts 4: 1 - 22

The Point: Every Christian must make a careful, daily examination of his or her faith. If we cannot find even the slightest hint of persecution, our faith in Jesus may simply be too closeted.

I. The establishment's interruption (vs. 1 - 4)

II. The Apostle's Response (vs. 5 - 12)

A. Boldness because of resurrection.

B. Boldness because of your neighbor.

C. Boldness because the Gospel is exclusive.

Jan 28, 2018

Put yourself out there.

Jan 28, 2018

Put yourself out there.

Acts 3:11-26

The Point: You're never going to play a part of advancing the Kingdom of God unless you live each day with a certain intentionality about the Gospel.

I. Take advantage of the God-ordained moments to show people the Gospel.

II. Use God-ordained moments to call unbelievers to repentance.

Nov 29, 2017

Be Healed!

Nov 29, 2017

Be Healed!

Acts 3:1-16

The Point: See the miracle performed and the message preached. It bears a striking resemblance to Pentecost just one chapter before. The common tie, you ask? Jesus.

I. The Temple.

II. The Beggar.

III. The Preacher.

Nov 5, 2017

The Vision Ahead

Nov 5, 2017

The Vision Ahead

The Point: First Baptist Church exists to glorify God by building a Great Commission culture in the people of Russellville, Alabama. We desire to be a church that fosters intimacy with God and equips the church to make disciples that would reach the world with the gospel of Jesus Christ.

Oct 29, 2017

Peter brings the heat – part 2

Oct 29, 2017

Peter brings the heat – part 2

The Point: After all the preparing....After all of the praying....after all of the procedural stuff...After everything has been readied, only then does Peter share the Word of God. Then the people responded.

I. Peter reminded the crowd of prophecy. vs. 14-21

II. Peter reminded the crowd of Jesus. vs. 22-36

III. Peter invited the crowd to respond. vs. 37-41

A. Low invitation / High challenge

B. Low invitation / Low challenge

C. High invitation / Low challenge

D. High invitation / High challenge