Feb 11, 2018
Stand Up, Stand Up for Jesus (Part 2)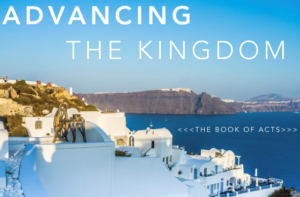 We had technical issues with the recording of this sermon and only have the second half of the sermon recorded. We will try to recover the first part and post it as soon as possible.
Acts 4:1-22
The Point: Every Christian must take a careful, daily examination of his or her faith. If we cannot find even the slightest hint of persecution, our faith in Jesus may simply be too closeted.
I. The establishment was paralyzed (vs. 13-18).
II. The Apostles were emboldened (vs. 19-22).
Watch
Notes
Download
Date
Title
Feb 11, 2018

Stand Up, Stand Up for Jesus (Part 2)

Feb 11, 2018

Stand Up, Stand Up for Jesus (Part 2)

We had technical issues with the recording of this sermon and only have the second half of the sermon recorded. We will try to recover the first part and post it as soon as possible.

Acts 4:1-22

The Point: Every Christian must take a careful, daily examination of his or her faith. If we cannot find even the slightest hint of persecution, our faith in Jesus may simply be too closeted.

I. The establishment was paralyzed (vs. 13-18).

II. The Apostles were emboldened (vs. 19-22).

Feb 4, 2018

Stand Up, Stand Up for Jesus, Part 1

Feb 4, 2018

Stand Up, Stand Up for Jesus, Part 1

Acts 4: 1 - 22

The Point: Every Christian must make a careful, daily examination of his or her faith. If we cannot find even the slightest hint of persecution, our faith in Jesus may simply be too closeted.

I. The establishment's interruption (vs. 1 - 4)

II. The Apostle's Response (vs. 5 - 12)

A. Boldness because of resurrection.

B. Boldness because of your neighbor.

C. Boldness because the Gospel is exclusive.

Jan 28, 2018

Put yourself out there.

Jan 28, 2018

Put yourself out there.

Acts 3:11-26

The Point: You're never going to play a part of advancing the Kingdom of God unless you live each day with a certain intentionality about the Gospel.

I. Take advantage of the God-ordained moments to show people the Gospel.

II. Use God-ordained moments to call unbelievers to repentance.

Jan 21, 2018

Dr. Frank Turek

Jan 21, 2018

Dr. Frank Turek

Dr. Frank Turek - Apologetics Speaker

Jan 14, 2018

Your Truth, My Truth, and Truth…Truth

Jan 14, 2018

Your Truth, My Truth, and Truth…Truth

The Point: Our world has dissolved truth into a subjective and ambiguous cauldron of relativism. Satan wants us to live here. Jesus wants us to rise above.

I. Societal truth.

II. Biblical truth.

III. The Church.

Jan 7, 2018

State of the Church 2018

Jan 7, 2018

State of the Church 2018

The Point: 2017 is gone. 2018 is here. What are we going to do about it? Let's chart a course together for a new year.

2018 A Year to Reach:

I. Reach our rolls.

II. Reach our neighborhoods.

III. Reach our community.

Dec 31, 2017

It's Insanity

Dec 31, 2017

It's Insanity

The Point: If you truly want to make a change in 2018, you have to make real changes! Good intentions only get your foot in the door.

I. The notable difference.

II. The new normal.

III. The needed result.

There was a recording issue and there is a small gap in the sermon.

Dec 24, 2017

Christmas Eve 2017

Dec 24, 2017

Christmas Eve 2017

Lord's Supper and the reason for Christmas.

Dec 17, 2017

The Word became flesh

Dec 17, 2017

The Word became flesh

John 1:1-5; I John 4:7-10

The Point: The Word became flesh, but long before the Word was flesh, the Word was love. And that love came down in the form of a baby, who would put on the greatest display of love the world would ever know.

I. The Word. John 1:1-5

II. The Flesh. John 1;14

III. The Cross. I John 4:7-10

Dec 10, 2017

The Miracle of Jesus

Dec 10, 2017

The Miracle of Jesus

John 1:29

The Point:

When you look at the lineage of Jesus, arguably one of scriptures more "boring" texts, you see in the complexity of names a certain simplicity in Jesus' incarnation: the same people Jesus came FROM foreshadow the people Jesus would one day die FOR.

I. The Matthew account - Matthew 1:1-16

II. The Luke account - Luke 3:23-28