Sep 25, 2016
knowledge doesn't always equal power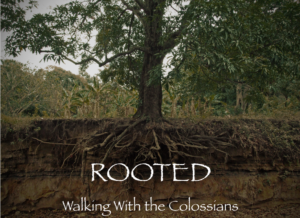 The Point: Simply having knowledge of the will of God isn't enough to access God's power. We must be filled with the wisdom and power, which puts to action that which we already know.
I. God's wisdom energizes understanding (vs. 9-10).
II. God's power produces endurance and patience (vs. 11-12).
III. God's deliverance produces restoration and forgiveness (vs. 13-14).
Watch
Notes
Download
Date
Title
Sep 25, 2016

knowledge doesn't always equal power

Sep 25, 2016

knowledge doesn't always equal power

The Point: Simply having knowledge of the will of God isn't enough to access God's power. We must be filled with the wisdom and power, which puts to action that which we already know.

I. God's wisdom energizes understanding (vs. 9-10).

II. God's power produces endurance and patience (vs. 11-12).

III. God's deliverance produces restoration and forgiveness (vs. 13-14).

Sep 18, 2016

Finding fruit in a world full of nuts

Sep 18, 2016

Finding fruit in a world full of nuts

The Point: It can be hard for the Christian to walk by faith in a world that has completely denounced all belief in Christ and His work. We're still called to bear the spiritual fruit in the gospel of Jesus, regardless the cost.

We find three specific things in this passage:

Sep 11, 2016

It's different, but it's the same

Sep 11, 2016

It's different, but it's the same

Numbers 21:4-9

The point: We love to say that we have it all together, but that's not what God wants from us. For us, we worship God in moments when we can say, " I don't have it all together."

Sep 4, 2016

Strike the match

Sep 4, 2016

Strike the match

The Point: Say what you want about the media or the increasingly immoral worldviews, it is those INSIDE the church that too often drive away those OUTSIDE the church. We must strike the match of the gospel, light the lamp, and place it on the lamp stand that is anchored in Christ.

I. Our presence is most effective when it is felt, not seen.

II. Our reward should be given by God Himself, not by men.

Aug 28, 2016

Sometimes people just need to be reminded

Aug 28, 2016

Sometimes people just need to be reminded

Acts 20:7-12

Aug 21, 2016

Anger:The Cold, Wet Blanket

Aug 21, 2016

Anger:The Cold, Wet Blanket

Matthew 5:21-26

The Point: Festering anger in a church saps the Body's ability to effectively do ministry in a community. Most unchurched/dechurched people will grab a popcorn to watch the fight and forget all about the love and grace of Jesus.

III. Anger doesn't begin as anger.

Aug 14, 2016

149th Homecoming Service – Gospel Vision

Aug 14, 2016

149th Homecoming Service – Gospel Vision

Homecoming 2016 Service:

Jeff Norris - Speaker

May FBC Russellville be increasingly becoming:

1. More captivated by the immeasurable worth of Jesus. 2 Cor, 3:16-18, 4:3-4,6

2. More convinced that dying to self is the only appropriate response to the worth of Jesus. 2 Cor. 4:8-11, Luke 9:23

3. More compelled by the love of Christ. 2 Cor. 5:14

4. More committed to His mission. 2 Cor. 5:17-20

Aug 14, 2016

Asking the right questions

Aug 14, 2016

Asking the right questions

The Point: To be that "City on A Hill" that Jesus speaks, we must ask the right questions, not only of scripture, but also of ourselves.

1. Why does Jesus use saltiness to reference righteousness.

2. How should Jesus, being the light of the world, affect how the church views the rest of the World.

Jul 31, 2016

A Forward Focus Part 2

Jul 31, 2016

A Forward Focus Part 2

Jul 24, 2016

A Forward Focus Part 1

Jul 24, 2016

A Forward Focus Part 1

Matthew 5:14-6, Luke Chapter 7 and 15

The point: God's interest in saving is not relegated to the totally lost or totally irreligious. God saves inside the church walls too.

1. God pursues the indifferent. Luke 7

2. God pursues the insiders. Luke 15